Welcome to Hokubei Karate-do Shihankai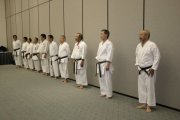 Dedicated Masters to Preserving the Art of Traditional Japanese Karate-doHokubei Karate-do Shihankai (Japanese Karate Masters Association of North America) is an organization dedicated to preserving the art of traditional Japanese karate-do. Today there are more than 30,000 karate dojos (schools) outside Japan, some are traditional, some are not. When traditional Japanese Karate-do came to the West in 1950, shortly after WW II, it was brought to the Americas in the hearts and minds of many of the Masters featured on this web site. They were pioneers in a strange land, with a hope and a mission of offering the wisdom and goodness of their art for the benefit of those who wanted to learn.
Initially, those who came to train were the strong, the spirited and the able-bodied. But over the years, the eyes of many were opened to the tremendous depth and power that martial arts training brings to individual development — regardless of age and level of natural physical ability. Karate training today is widely recognized as an artform that deeply affects the entire person, helping to balance body, mind and spirit. In the words of Hokubei Shihankai's Master Takiyuki Mikami:
In recent years, the trend has been for more elderly and young people to come to train in dojos. The concept of specialized training geared toward specific generations encourages continued practice by those who might otherwise withdraw from training and self-development. Today we face various problems in the world, and as we try to live each day according to the spirit of bushido (way of samurai), it seems appropriate to reflect on the true meaning of the martial arts by emphasizing compassion toward all members of our society.
Hokubei Karate-do Shihankai (Hoku = North; Bei = America; Karate-do = The Way of Empty Hand; Shihan = Master; Kai = Association) aspires to contribute to world peace by helping people better themselves with karate-do practice.
Hokubei Shihankai's founding members all practice and teach traditional Japanese martial arts in North America. All are respected worldwide for their leading contributions to the martial arts, and to other fields as well, including calligraphy, philosophy, and community. Learn more about each of Hokubei Shihankai's Founding Masters, please click here (masters). Further, Hokubei Shihankai holds various events (news and events) to help foster the practice and the understanding of the philosophy of traditional karate-do in North America and worldwide. If you are interested in making a contribution to our organization, we accept donations.