Fumiyasu Nakamura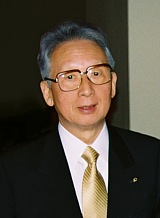 Membership
Membership
Dojo Information
Name

Fukushodo Co. Ltd

Address

3-8-15 Kitakarasuyama. Setagaya-ku
Tokyo, Japan

Website

Phone

(011) 81-03-3309-0954

Fax

(011) 81-03-3300-8774
Personal Information
First Name

Fumiyasu

Last Name

Nakamura

Location

Tokyo, Japan

Style / Organization

Shotokan. Graduate Takushioku University Karate Club, Tokyo, Japan

Brief Karate History

Mr. Nakamura is the publisher of Gekkan Karate-do Magazine (monthly). Published in Tokyo, Japan, Gekkan Karate-do is read worldwide and is considered an authority on the art of traditional Japanese karate-do.